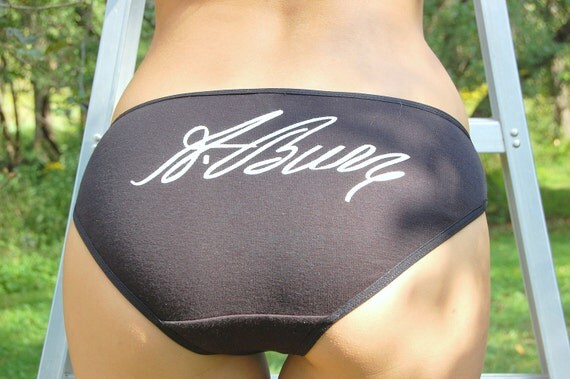 I still have no good caption for this.
My favorite thing about the internet is that just when I think I've seen everything, something like Aaron Burr panties comes along and reminds me that the world is bigger and weirder than I could ever imagine. Andy Brennan, owner of Aaron Burr Cidery and its associated underwear, was kind enough to answer a few of my questions about authentic cider, Revolutionary history, and creative branding:
You own & run Aaron Burr Cidery. How did you become interested in making Revolutionary-era hard cider, and why did you decide to name your business after Burr?
When we researched the history of our property, we found that in 1817 the lawyer who sold the property to the homesteaders who started our farm was none other than Aaron Burr. He had no political career anymore [post-duel], but he continued to live into the 1830's so he returned to law. We liked the name because it represented a time and location (New York) where a great cider civilization had thrived. But he had nothing to do with cider, I'm sure.
Our claim to fame in the cider world is our use of foraged apples. Wild apples posses properties that are superior for hard cider, and when we discovered the taste of true, ancient cider we were floored. I could not believe how sophisticated and complex cider could be. It was instantly my mission to return cider to its rightful place as the local table drink of the Northeast where apples grow better than any other introduced species. Ignoring the "advances" in agriculture and drink over the last 150 years, I was hell-bent to make cider the slow way by using uncultivated "homestead" apples (which are drastically different than the fruit from mono-culture orchards of today.)
I'm guessing you're familiar with Lin-Manuel Miranda's musical Hamilton and its popularity. What do you think of the show's portrayal of Burr (or of Hamilton as the hero)?
I am familiar with the Hamilton play. We were invited to a meeting of the Aaron Burr historical society a year ago and they were all raving about it. But we still have not seen it because now that it is on Broadway the tickets are hard to get. Personally, I love the idea. And I don't have anything against Hamilton. I think American history was written by Hamilton and Washington sympathizers. Naturally, the powers involved with a central government favor Hamilton's platform, but I don't agree that Burr was a villain. I mean, Hamilton picked up a gun too remember. A split second later he could have been the murderer. So it's not as "good-vs-evil" as we would like it to be.
Have you noticed any uptick in customers recognizing Burr's name because of the musical?
Our cider business is very specialized. We have quite the reputation in our chosen craft but we have a limited supply. The customers who seek our product are mainly wine connoisseurs and people involved in the foodie world, so it's rare that our cider is found outside those circles. But we do get the occasional Hamilton or Burr enthusiast wanting to try our product. When the play went to Broadway they asked if we could supply bottles for the concession stand. They sell it there still, but the truth is most people still have not discovered the magic of true cider. They are confused by the glut of cheap cider made from conventional apples. In other words, it's not a big seller outside of foodie circles.
OK, now the big question: Where did the idea for underwear bearing a pistol and Burr's signature come from? Who was like, "You know what? We should make Aaron Burr panties"?
The underwear features our company logo, which is a combination of the signature and gun. Our home-spun branding became a hit in the advertising world and it is used in marketing seminars as an example folk-minimalism. I have no idea what that means. I'm a farmer and cider maker. Nonetheless, I did not want to cheapen our branding by advertising in public despite the pressure for us to "get our brand out there." Polly and I don't want to live in a world with corporate logos everywhere. So we joked: maybe we should make logo underwear so that people can privately support our brand.
What inspired you to make your Etsy shop?
Selling on Etsy was the ideas of two friends are in the fashion world, both of whom have sites for their accessories. I want to build the site now and have a whole colonial-absurd theme going on. The next item will likely be neck scarves for men--the kind that landed gentry wear under their button-down shirts. [ed. note: Cravats!] I like the irony that Polly and I are just mom-and-pop farmers producing high-end cider for city elite.
Finally, what do you think Aaron Burr would think of having his signature across a lady's behind?
Speaking of city elite, I think Aaron Burr would consider himself a sophisticated gentleman. I think he and Hamilton both had aspirations to grandeur and considered themselves "more honorable" than common men. Yet both of them had affairs and were obsessed with women. I'm sure Burr, the aristocrat, would be horrified to see his name on women's panties, but as a desirous and egotistical man he would secretly be pleased as punch.